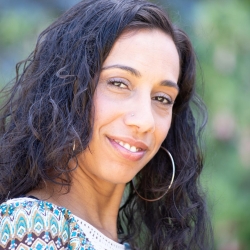 Rama Ali Kased
( She/Her/Hers )
Assistant Professor
Email: ramak@sfsu.edu
Bio
Rama Ali Kased is an Assistant Professor in Race and Resistance Studies in the College of Ethnic Studies at San Francisco State University. She holds a B.A. in special studies with an emphasis on Philosophy and Political science (St. Francis College), a Master's in Special Studies with emphasis on social justice and equity (SF State University), and an Ed.D in Educational Leadership (SF State University). She also has intensive background in developing curriculum in K-12 and higher education. 
Dr. Kased is a seasoned community organizer. Originally from Brooklyn, New York and of Palestinian origin, Dr. Kased's community work spans across major cities across the nation. She has served on the multiple boards of community-based organizations. She has also founded numerous organizations including Arab Woman in Active in Arts in Media (AWAAM) in NYC and the Arab Resource and Organizing Center (AROC) in SF Bay Area. She works with community-based organizations and candidates running for public offices, where she provides leadership and base building training and campaign development support. She has led and served on many task forces at SF State University, including AB 540, first-year experience, and the men of color academic success work group.
Dr. Kased's teaching and scholarship focus on education equity, racial and economic justice, and community engagement. She currently teaches courses about racial capitalism, community organizing, history of social movements, introduction to Ethnic Studies and RRS, and RRS' senior capstone course. She is a founder of the Metro College Success Program, an award-winning social justice program that serves low-income, underrepresented students at SF State University. Her recent publication, "Achieving Equity: An Evaluation of a Multi-Component, Lower Division Student Success Program", has been accepted in the Journal of Educational Research and Practice. She is currently editing her dissertation, "Countering Oppression: Examining Metro's model of social justice education". From this work, she aims to highlight ways in which the classroom can be used as a place of liberation, including building solidarity among students, relevant and responsive curriculum, and facilitating and fostering students into agents of social change.