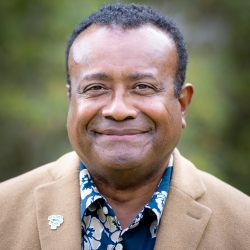 Ponipate Rokolekutu
( He/Him/His )
Assistant Professor
Email: prokolekutu@sfsu.edu
Bio
Ponipate Rokolekutu is an Assistant Professor at the Critical Pacific Islands and Oceania Studies (CPIOS), under the Department of Race and Resistance Studies, at the College of Ethnic Studies, at the San Francisco State University. Dr. Rokolekutu obtained his bachelor degree in history/politics, and sociology in 1994, and a post- graduate diploma in development studies in 2000 both from the University of South Pacific in Fiji. He later attained his MA in 2007, and the PhD in 2017 – both in political science, from the University of Hawaii at Manoa.
Dr. Rokolekutu's scholarship is grounded within the post-colonial theory/postcolonial critique, or what Walter Benjamin refers to as "the tradition of the oppressed." His research focuses on the relationship between colonialism and land alienation and the subsequent marginalization of indigenous peoples. His research centers on the critical examinations of British colonial land legislations in Fiji; the construction of iTaukei indigeneity; the institutional trusteeship of iTaukei land; and the complexity of iTaukei land dispossession. While the focal point is on iTaukei of Fiji, his research is framed within a comparative analysis of land dispossession in Oceania and anchored within the broader intellectual discourse on colonialism, post-colonialism, race, Marxism, and indigeneity.
Dr. Rokolekutu has contributed significantly to the intellectual discourses on the land and iTaukei economic development debates in Fiji, and issues of Blackness, Race, and Indigeneity in Oceania.
He is a fierce advocate of Pacific Islanders community in the Bay Area of San Francisco, and has contributed to different campaigns including the 2020 Census Advocacy, Corona Virus (Covid 19) Advocacy, Ethnic Studies Model Curriculum, and the advocacy for the establishment of Pacific Islander Cultural District in San Francisco. He is also a member the recently established Pacific Islander Stakeholder Round Table and Listening Session with the White House.
Dr. Rokolekutu, is an iTaukei, and comes from the lineage of the Mata ni Vanua to the Tui Kuku, the iTokatoka of Vosatoranikuku, of the Vanua of Nailagolaba.