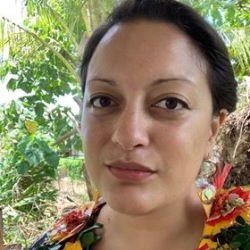 Leora Kava
( She/Her/Hers )
Assistant Professor
Email: lkava@sfsu.edu
Bio
Dr. Leora Kava is an Assistant Professor of Critical Pacific Islands & Oceania Studies (CPIOS), housed within the department of Race and Resistance Studies at SF STATE. She has a B.A. in East Asian Studies from Brown University (2012), her Masters in Pacific Islands Studies from the University of Hawaiʻi at Mānoa (2015), and her PhD in Creative Writing (2019), also from the University of Hawaiʻi at Mānoa. She is the founder of the Pacific Verse project, a community-based workshop series based in Nukuʻalofa, Tonga that works with participants to create, perform, and publish original poetry and music. From 2019-2020, she completed a Fulbright grant in Tonga working with the artists of Selekā—a community arts collective based in Haveluloto, Tongatapu led by artists Tevita Latu and Taniela Petelō—to develop curriculum and host poetry and music-writing workshops.
Dr. Kava's areas of research and practice are rooted in Pacific Islander literary studies, Indigenous theory and poetics, and creative writing as a vehicle for critical imagination and decolonization. She has published reviews of Pacific Islander poetry in Poetry (2016, published under Lee Kava) and The Contemporary Pacific (2017), and recently published a short, multi-genre essay in Amerasia Journal (2020). Her poetry can be found in Kore Press (2015) and The Hawaiʻi Review (2015, 2017), with recordings available on podcasts It's Lit with PhDJ (based in Honolulu) and For The Qultures (based in the Bay Area). 
Alongside Craig Santos Perez and Kathy Jetnil-Kijiner, she is currently co-editing an anthology of Pacific Islander writing that draws together multi-genre, multi-generational work centering Pacific Islander genealogies, knowledge, and relationships to the environment (forthcoming from University of Hawaiʻi Press). She is also currently editing her dissertation Matala: poems, into manuscript form. In her poetry, she draws from her diasporic, mixed-race, Tongan roots, shaping them through found poetry techniques that incorporate language and archival knowledge from sources such as the Tongan-English dictionary, family stories, family letters, and treaties. From this work, she aims to link personal experience with the broader realms of decolonial Pacific politics and critical imagination toward liberatory futures. Ultimately, the goal of Dr. Kava's research, teaching, and creative work is to support Pacific Islanders defining and shaping our literatures to do the work we want for our communities.