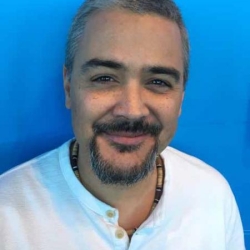 Jason Ferreira
( He/Him/His )
Associate Professor
Phone: 4153381645
Email: cheo@sfsu.edu
Location: EP 210
Bio
Jason Ferreira is Associate Professor and Chair of Race & Resistance Studies in the College of Ethnic Studies at San Francisco State University. He holds a B.A. in History from the University of Illinois at Urbana/Champaign (1992) and both an M.A. and PhD in Comparative Ethnic Studies from the University of California at Berkeley (2003). He is also a recipient of the University of California President's Postdoctoral Fellowship (2003-2005).
Dr. Ferreira's teaching and scholarship focus on the history of radicalism within and across communities of color. Recent scholarship includes "With the Soul of a Human Rainbow: Los Siete, Black Panthers, and Third Worldism in San Francisco," published in the award-winning anthology Ten Years that Shook the City: San Francisco, 1968-1978. He is also published in Kalfou: A Journal of Comparative and Relational Ethnic Studies, Latino Studies, and internationally in the Doshisha American Studies Journal. Drawing upon dozens of oral histories and extensive archival research, he is currently working on the first social history of the multiracial struggle that culminated in the momentous Third World Strike at San Francisco State, giving birth to the first Department of Black Studies and (still) only College of Ethnic Studies in the nation. In 2008, Dr. Ferreira joined with veterans of this defining struggle and with current students to formally establish the All Power to the People Archive Project, an initiative dedicated to both preserving the history of the diverse social movements for self-determination that existed at the heart of the strike and laboring to make them available to future generations in struggle. On campus, he has served on the Labor Studies Advisory Board and on the Academic Senate. Currently Dr. Ferreira sits on the Community Service Learning Advisory Board of the Institute for Civic and Community Engagement. Additionally, he serves on an advisory committee for the Latino Educational Achievement Partnership (LEAP), a project of the Cesar E. Chavez Institute.
Along with Elizabeth "Betita" Martinez and Phil Hutchings, Ferreira co-founded the Institute for MultiRacial Justice, a resource center dedicated to promoting and strengthening solidarity among communities of color. He also joined in the creation of the Center for Political Education in San Francisco's Mission District. It's ongoing mission has been to provide a space dedicated to building strong movements and the left through education, analysis, theory, dialogue, and activism. He has also served on the Board of Directors of SpeakOut: Institute for Democratic Education and Culture. Currently, Dr. Ferreira sits on the Board of Directors of the Freedom Archives, the Kendra Alexander Foundation, and is a member of the Coordinating Committee of the Howard Zinn Book Fair. He is also the Project Director of the Eyes on Arizona Project, an initiative dedicated to providing political education, encouraging civic engagement, and developing leadership skills in youth in pursuit of immigrant justice.