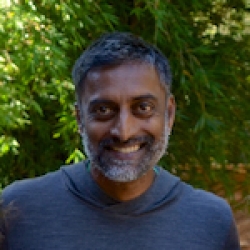 Gopal Dayanenni
( He/Him/His )
Lecturer
Email: gopaldayaneni@sfsu.edu
Bio
Gopal has been involved in fighting for social, economic, environmental and racial justice through organizing & campaigning, teaching, writing, speaking and direct action since the late 1980's. Gopal did his undergraduate studies at UC Davis, graduate studies in education at UC Berkeley and was the first Climate Justice Fellow in the Urban Sustainability Masters of Arts program at Antioch University, Los Angeles, where he continues to teach in graduate and undergraduate programs. 
Gopal is a co-founder of Movement Generation: Justice and Ecology Project. MG is rooted in vibrant social movements led by low-income communities and communities of color committed to a Just Transition away from extractivism and towards healthy, resilient and life-affirming local economies. MG is a founding member of the Climate Justice Alliance. 
Gopal supports movement building through his work with organizations including The Climate Justice Alliance, ETCgroup, and the Center for Story-based Strategy. He is also a Fellow with the Center for Economic Democracy.
Gopal currently serves on the boards of  The Working World, and Occidental Arts and Ecology Center. He is also on the advisory boards of the Catalyst Project and The Sustainable Economies Law Center. Gopal works at the intersection of ecology, economy and empire.
Most importantly, Gopal is the parent of two amazing young rabble-rouser. He lives in Oakland in an intentional, multi-generational social justice community of nine adults, eight children and a bunch of chickens.