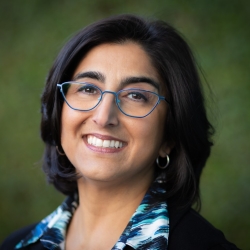 Falu Bakrania
( She/Her/Hers )
Associate Professor
Department Chair
Phone: To sign up for office hours/advising see link in Bio
Email: bakrania@sfsu.edu
Location: Ethnic Studies and Psychology Building, Room 107
Bio
Falu Bakrania is Associate Professor of Race and Resistance Studies (RRS) in the College of Ethnic Studies at San Francisco State University. She was also Co-Director of SF STATE's South Asian Studies Initiative (SASI) for over a decade. Prior to joining SF STATE, she was Assistant Professor of Sociology and Asian/Asian American Studies at SUNY-Binghamton. She holds a B.A. in sociology and economics from the University of California at Berkeley, an M.A. in sociology from Harvard University, and a Ph.D. in anthropology from Stanford University.
Her scholarship and teaching focus on the South Asian diaspora, gender and sexuality, nationalism and transnationalism, and popular culture. 
As Project Co-Director of a UISFL grant (2006 - 2008), she co-created the minor in South Asian Studies at SF STATE, SASI, and a South Asian American Internship Program. She also co-organized the First Annual Conference of the South Asian Studies Institute at SF STATE. 
Her book, Bhangra and Asian Underground: South Asian Music and the Politics of Belonging in Britain (Duke University Press, 2013) examines the race, class, and gender politics of how British Asians use music to contest racism.  She has published in the edited volumes, Transnational South Asians (Oxford University Press, 2008) and Electronica, Dance, and Club Music (Ashgate, 2011), and in the journals The Subcontinental, SAGAR: A South Asia Research Journal, and Asian Diasporic Visual Cultures and the Americas (forthcoming 2019).
To sign up for office hours/advising, click here
SFSU Advising Center Website: https://ethnicstudies.sfsu.edu/esac