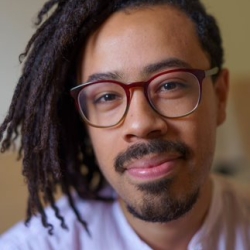 Alan Pelaez Lopez
( They/Them/Theirs )
Assistant Professor
Email: alanpl@sfsu.edu
Location: EP 411
Bio
Dr. Alan Pelaez Lopez is an Assistant Professor of Queer Ethnic Studies, housed in the Department of Race and Resistance Studies at San Francisco State University. They earned a Ph.D. in Comparative Ethnic Studies from the University of California at Berkeley, and they are also a recipient of fellowships and academic appointments from Brown University and New York University.  
Their scholarship attends to the intimate practices of resistance that undocumented Black migrants (from Mexico, the Dominican Republic, Haiti, Venezuela, Nigeria, Senegal, Kenya, and Liberia) enact to imagine futures where forced migration ends. To do this work, Dr. Pelaez Lopez's scholarship compares the legal experiences of Black Americans and American Indians to the legal experiences of Black migrants (some who are also Indigenous), and instead of seeing these communities as separate from one another, Dr. Pelaez Lopez argues that their legal conditions intersect when settler colonialism, gender and sexual discipline, and racialization processes are brought to the center of analysis. Dr. Pelaez Lopez's writing can be found in Women's Studies Quarterly (Forthcoming), the Academy of American Poets, theGeorgia Review, Poetry Magazine, Teen Vogue, The Andy Warhol Museum, and more.  
In 2022, Dr. Pelaez Lopez was awarded a Ruth Lilly and Dorothy Sargent Rosenberg Poetry Fellowship from the Poetry Foundation. They are also the author of the art and poetry collection, Intergalactic Travels: poems from a fugitive alien (The Operating System, 2020), a finalist for the International Latino Book Award, and the chapbook, to love and mourn in the age of displacement (Nomadic Press). They are currently finishing a manuscript tentatively titled When Language Broke Open: An Anthology of Queer and Trans Black Writers of Latin American Descent, forthcoming Fall of 2023 with the University of Arizona Press.